HUD's Inspection Backlog
The department anticipates getting through nearly all overdue REAC inspections by the end of 2022. Here's how.
Get Quotes ← Apply for a loan in minutes and get multiple quotes today
While the pandemic had serious impacts on property operations across all asset types, many affordable communities faced an additional challenge: From mid-March 2020 to June 2021, the Department of Housing and Urban Development effectively ceased physical REAC inspections of HUD-insured properties.
Although some property inspections still occurred virtually during this period, the bulk of inspections were simply pushed into the future. REAC inspections normally occur every one to three years for a property — depending on its previous inspection score. So, with inspections pushed to the wayside for more than one year, it's understandable that a significant backlog of inspections needs to be addressed.
A Big Plan
Enter HUD's Big Inspection Plan, or BIP. Announced in late 2021, the framework around BIP calls for each property to be physically inspected by early 2023 at the latest. The majority of inspections, however, are expected to be done by the end of 2022. Communities will be prioritized by those deemed most in need of review, with those inspections having begun in January.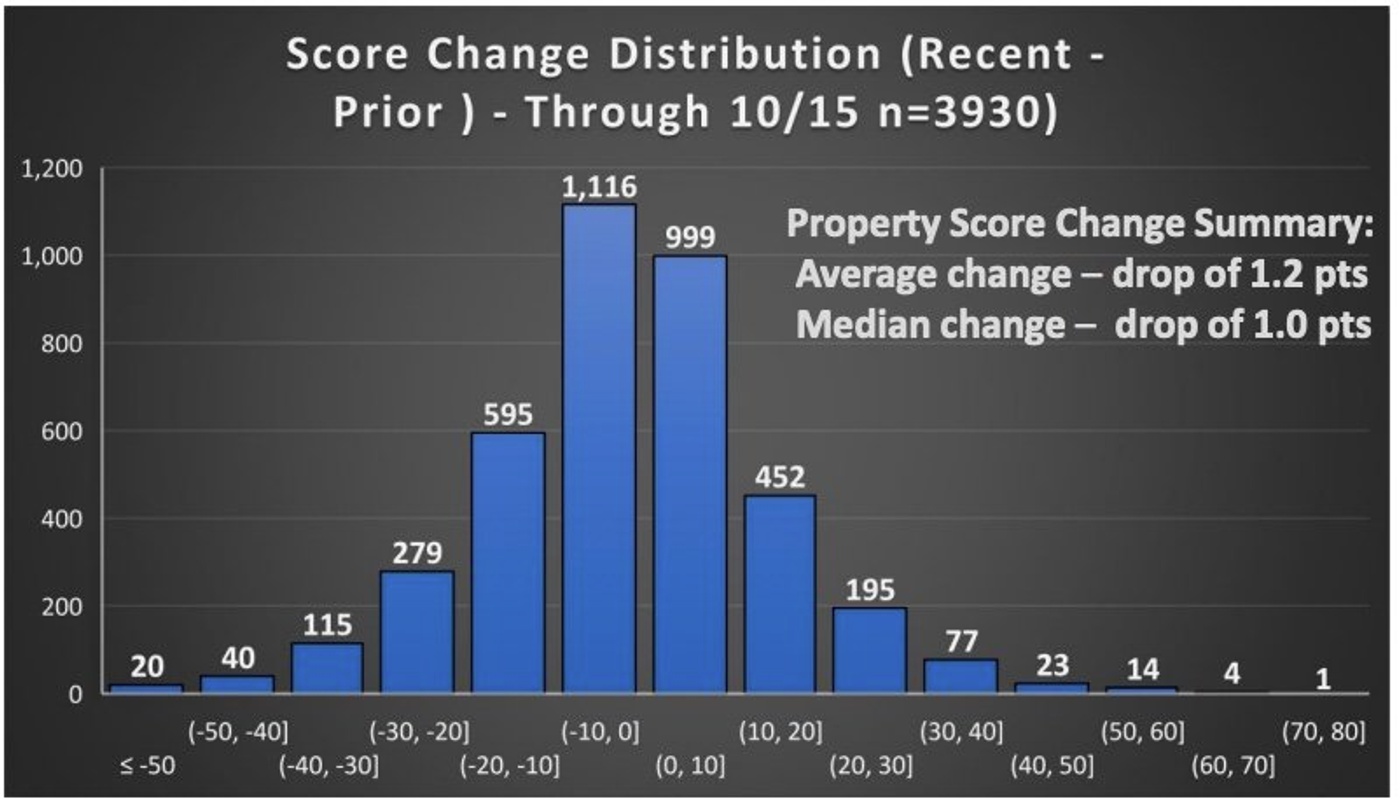 Distribution of changes in scores between REAC inspections. Image courtesy of HUD.
However, with more inspections comes a need for more personnel across the country. The department plans to engage more contractors to carry out inspection work while also training existing employees — even those possibly engaged in other lines of work within REAC.
One interesting observation made by HUD in its presentation is that REAC scores for properties which were reviewed showed a decrease in quality, which — while minor — could be troubling. Looking at last year's physical property inspections through mid-October, properties fell an average of 1.2 points (and a median change of 1 point) compared to prior inspections. However, this change may not be too significant, considering more than 90% of assets scored high enough to earn a pass rating, with more than 60% landing a score of 80 or higher.
Other Changes 
Announced shortly before the introduction of BIP, other revisions to inspection policy and procedure have been enacted — though most changes are just shifts back to pre-COVID policy. For example, during the first year and a half of the pandemic, HUD provided property owners with a 28-day notice in addition to the standard 14-day notice the REAC inspector would provide. This 28-day period was dropped from official policy at the end of September 2021, however, meaning public housing owners will once again receive only a 14-day notice prior to an inspection.
Another change involves the use and disposal of personal protective equipment, or PPE. During the peak of the pandemic, inspectors had been required to dispose of all PPE off-site and were required to wear gloves for the duration of the inspection. While inspectors must still maintain a high level of hygiene and clean hands prior to entering a unit at a property, they can throw gloves, wipes, and similar PPE material away in garbage collection areas — as long as those disposal areas are outside of units themselves. Gloves are now only required for inspections at senior housing communities and at health care properties.